27 Apr

Spring Store Information!

Vape Texas will be embarking on a new adventure in Spring, Texas. The location will be over 1500 sq.ft. and is intended to be the flagship of the two stores. With the great success of our first location we are able to improve upon what we have laid out as a solid foundation. Great prices, great service and great location! This store will feature virtually the same products as the original store but we will also be increasing our premium e-liquid selection as well as our selection of authentic mechanical mods at lower prices than nearby retailers to remain competitive.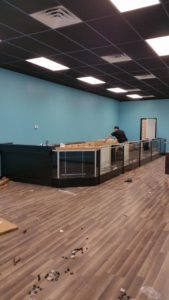 Here are a couple of progress pictures that we have taken along the way. As a note, the original space was bare bones, concrete and no ceiling, we just forgot to take pictures. The projected opening is Mid-May and the only thing at this point that could potentially hold up the process is obtaining our occupancy permit from Harris County. We really hope to please existing customers because you won't have to drive so far to reach our store. We also plan to captivate a large portion of the Spring market area because we have a formula that works. We always put our customers first. We pay well above average, so you can be sure that you are dealing with professionals who have been screened appropriately. With over 300 applicants for one job posting alone, we pick the best talent to provide exceptional service to our customers. Along with that, we offer guarantees on all of our products. We are actually authorized retailers for many of the brands we carry, meaning we can get you a new product, same day if your item decides not to work. We carry the cheapest house blends in the market. While many competitors may only sell premiums we offer full-service e-liquid. Custom nicotine levels and VG/PG levels on all of our in-house offerings of over 100 flavors. We can also create flavors for you, do you want a coconut, chocolate, raisin and orange tangerine? Probably not, but rest assured, we can do it! If you are a premium connoisseur we also have the liquid for you. We plan to stock over 30 premium blends, with more releasing as time goes on.
We can only hope that the Spring market welcomes us with open arms, as did the Conroe population. We will invest in your community and create jobs. In Conroe we give charitable donations and sponsor events year round. We will do the same for the Spring area. Together we can lower the smoking population of Harris County and also lower the current prices for some!
Thank you all,
Vape Texas Group